Burlington, NC, January 5, 2018 – Accurus Research Systems, a firm that partners with businesses to help improve organizational performance, today unveiled its new corporate logo.  The new corporate image is part of broader changes to the 29 year old company that includes repositioning its core services as well as its relocation of operations to Charlotte, North Carolina by summer 2018.
In unveiling the new brand image, Douglas Cox, founder and president of Accurus Research said, "The timing and purpose was right to make several strategic changes to the company.  With the decision late last year to relocate to Charlotte and the desire to more effectively align our employee and customer research services with our process improvement services, it just made sense to take it all on at the same time."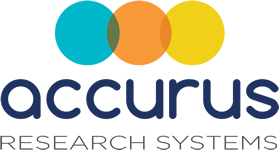 According to Cox, "I felt our previous brand image was a little too busy and was heavy on the research side with too little emphasis placed on our quality and process improvement services.  The new image is much cleaner and is representative of our three service areas – people, processes, and training.
For further information, contact Douglas Cox at (704) 619-7101, at douglas.cox@accurusresearch.com, or through the company's web site – www.accurusresearch.com.